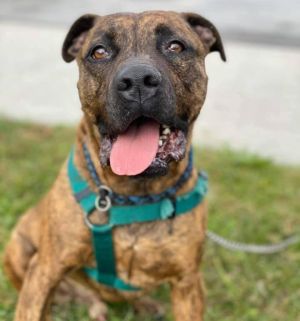 American Staffordshire Terrier
Spayed/Neutered
Up-to-date with routine shots
Introducing Brindicilous, Bodacious, Bruce, or Brucey Goosey as he's called by his fans! Our 7-year-old boy can be difficult to get to know, but once he's a friend he's loyal, affectionate, and playful. Great on a leash, and housetrained, Bruce loves to go on long walks where he can roll around on the grass to self scratch his back! He loves belly rubs, playing with toys, a good game of fetch, and simply hanging out in the sun. Sometimes serious, sometimes goofy, he loves romping on the beach, loves treats, and can entertain himself with a toy for hours. He has been professionally trained and does know he's commands Bruce will thrive in a quiet adult only home, preferably with a yard, as an only pet with an experienced person who speaks 'dog' and positivity. A few meet and greets with Bruce may be necessary in order to cement your relationship. Bruce is neutered, up to date with appropriate vaccinations, and microchipped.