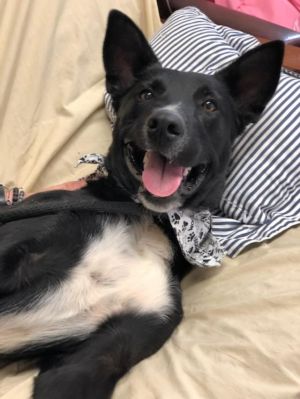 Labrador Retriever, Shepherd
Spayed/Neutered
Up-to-date with routine shots
Hi, I'm Clyde! No, I don't get radio signals from outer space with my ears! I've been told I'm absolutely gorgeous with my shiny ebony coat, and when my whirly bird tail wags (which it does all the time), watch out! I'm about 10 months old, 45 lbs, and probably a LABRADOR/SHEPHERD/HOUND mix (which is why I'm so smart and affectionate!). I love people and am always ready for some kissing, hugging and playtime, and I love belly rubs best of all! I have lots of fun energy so if you're looking for a reason to get up in the morning and need an exercise partner, I'm your guy! After we exercise, some snuggle time will be most appreciated as I excel at that, too. I enjoy the company of OTHER DOGS; I get along well with everyone! I know the command for 'sit' and have almost mastered 'down', but I'm open to whatever you want to teach me! LOVE CHILDREN I'm neutered, up to date with vaccinations, and microchipped. Go ahead - make an appointment to meet me. I'm what you need in your life!