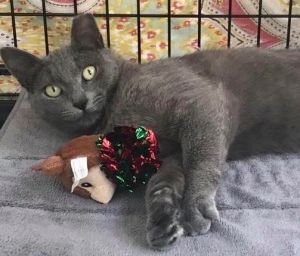 Domestic Short Hair, Russian Blue
Spayed/Neutered
Up-to-date with routine shots
Hi my name is Rocky, and I'm looking for a cat to adopt me! I mean, I technically need a human to adopt me, but I'd really also like a cat companion as well. When I was found outside through a TNR (trap, neuter, release) program, my caretaker decided that I had a chance to find a home and be rehabilitated. And she was right, I really love being indoors! I need a home with an experienced cat person or family who is patient, as I can be shy with humans at first. Once I'm comfortable with people, I love to be pet, have my ears and chin scratched and stretch out in the sun for my cat naps. In two minutes I'll be purring contently and making biscuits. I enjoy playing with, snuggling and grooming other kitties. I've also been in foster with dogs and older children. I'm now in Long Beach and waiting for my new family to come meet me.