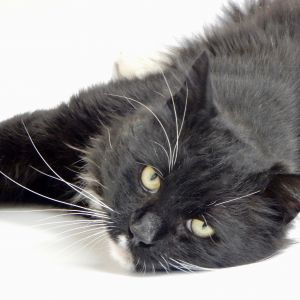 Domestic Medium Hair
Spayed/Neutered
Spayed/Neutered
Up-to-date with routine shots
Meet OREO. He is a 2 year old medium haired, Black and White Tuxedo cat that is a HUGE hunk of pure LOVE. He is just the SWEETEST CAT. Oreo is VERY EASY GOING, and completely CONTENT all the time. He loves to SNUGGLE with his person and doesn't like to be alone. Plus, he PURRS a lot, gives KISSES, HEAD BUTTS and ROLLS ON HIS BACK. Oreo is VERY VOCAL and will keep you entertained with his CUTE CHATTER. Oreo tested positive for FIV. (FIV is a feline immune deficiency disease that is only transmitted to other cats through deep bite wounds.) FIV positive cats can live long, healthy lives and Oreo is in great health. Oreo is EXTREMELY GENTLE, so he can live with other cats as long as they are gentle and sweet like he is. FIV is not contagious to humans and dogs. Everyone that meets Oreo instantly falls in love with him. Come meet Oreo and we're sure you'll be smitten! Arrange for a "Meet and Greet." He is in residence in Long Beach, NY. He is neutered and UTD on shots.