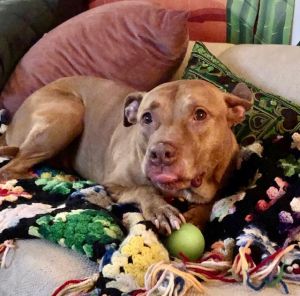 American Staffordshire Terrier
Spayed/Neutered
Up-to-date with routine shots
Adrian loves you already — and you've only just met through a photo! Looking for a sweet, smart, gorgeous redhead? Then I'm your girl? My name is ADRIAN, and I'm 7 years old and weigh 55 pounds. I've been told I'm a perfect specimen, but I don't mean to brag! I will instantly become your favorite exercise partner - I love a great jog or hike. I'm a smart dog and have already mastered sit and down. I think it's really fun learning new tricks, especially when I'm rewarded with a treat. I love a good challenge, so feel free to get creative to find new ways to stimulate my clever mind. Rest assured that as much as I like being on the go and performing tricks, I'm also a master snuggler and will lay on the couch or flop over for belly rubs anytime you want. I would prefer to be your one and only pet in the home, but I promise you that my undivided attention, sweetness and love are all you will need. I am spayed, microchipped and up to date on all vaccinations. The only thing missing from my life is you!