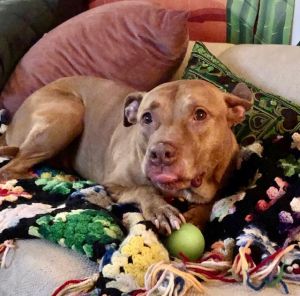 American Staffordshire Terrier
Spayed/Neutered
Up-to-date with routine shots
Does a gorgeous redhead make your heart ping? Then come meet our beauty Miss Adrian of 7 years old Surrendered with her son as their family could no longer take care of them, Adrian is always eager to be leashed for a walk. She'd be a great jogging or hiking partner as she loves exercise and loves to be on the go. Having lived her entire life to date with her family, she's understandably a bit concerned at this abrupt change in her life but is getting used to the routine and new environment, and is a pro at meeting new people and calling them 'friend'. Adrian is smart pup, and has already mastered sit and down like a rockstar, and loving treats will learn whatever her new family wants to teach her. She's curious and engaging and will thrive with structure and love as her second favorite thing to do after a walk is cuddling for bellies and kisses. A dog savvy person or family is ideal for Miss Adrian, giving her time to decompress and settle in. Adrian Loves to go to agility classes as she's smart and plays with other DOGS Adrian is spayed, microchipped and up to date on all her vaccinations; the only thing missing from her life is you!