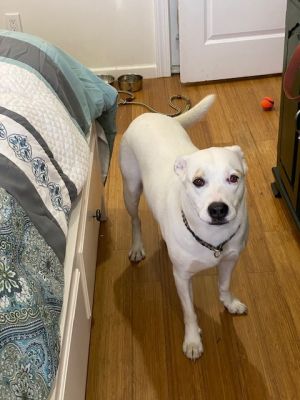 Labrador Retriever, American Staffordshire Terrier
Spayed/Neutered
Up-to-date with routine shots
Hi My name is Ziggy and I am a stunning Lab/Shepherd mix 6-year-old boy weighing 50 pounds. My coat is dense and soft as a lamb's, perfect for you to give me a good massage. I will be so grateful for your affection and will reciprocate equally. My foster mom says I am a gem in the rough and will make the best companion. Come meet me and give me a chance to show you! A little more about me ..... I take time to know you but then my favorite things include belly rubs, snuggles, and laying at your feet to watch TV. It's actually the perfect spot - you can use your feet to rub my belly and my lush coat will warm up your feet on a cold night. A win-win for both of us! And let's not forget a good game of fetch. I'm a smart guy and use my supreme focus and determination to capture the ball and bring it back to you every time! I make a great walking partner and will obediently pay attention to you and walk by your side. I am a gentleman at home – calm and respectful and very well behaved. I'm never destructive. I can keep myself busy with my toys and then find a good spot for my nap. When you're not home, I can be protective if someone knocks on the door or tries to enter, as I wouldn't want anyone to harm you. I hope you appreciate my efforts to keep you safe. I am obedient, though, so when you are home, I will listen to your direction to stop barking at your friends. In the summer months I like nothing better than to run around the back yard. My trainer is very impressed with how quickly and eagerly I learn, and how willing I am to listen to you and obey directions. I'm pretty proud of myself too! She said it's an absolutely critical component of a happy home life for both family and dog. She believes the best chance for my success is a home that is calm, although I love playing with medium energy dogs, and I am living with three DOGS now. Given my desire to protect you, it is best that there aren't any small children in my forever home. She also says that because I am so smart, with your love and consistent training, I will be your most loyal, loving, goofy, and grateful family member. I'm secretly one of her favorites, so she promises to be there for any questions or guidance you might have for me. She knows what a good boy I am and with the right EXPERIENCED OWNER, the sky's the limit. I am neutered, up-to-date on shots and microchipped. I'm also housetrained.